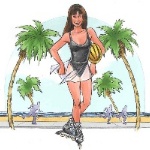 SkateLog is a comprehensive resource website on inline and quad roller skating started by Kathie Fry of Venice Beach, California. Since 1998, Kathie has spent many laborious hours creating skating websites, eventually combining most of her efforts into SkateLog. The site has articles on the different styles of skating, equipment, skating around the world, in the media, lessons, safety, events, etc.[1] Also, Kathie hosts SkateLogForum (with Jessica Wright), a discussion board website covering a wide range of skating topics.[2]
Ad blocker interference detected!
Wikia is a free-to-use site that makes money from advertising. We have a modified experience for viewers using ad blockers

Wikia is not accessible if you've made further modifications. Remove the custom ad blocker rule(s) and the page will load as expected.